■New Product: Otamatone Iwashika Ver.
2023.03.07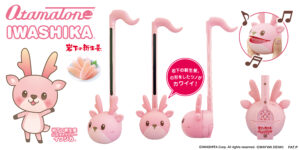 The Otamatone has a new friend! Iwashika-chan, the official character of the popular "Iwashita Shin-Ginger" has become an Otamatone!
This is the first food-related collaboration for Otamatone! The gentle pink body and Iwashikachan face are a perfect match.
The horn in the shape of a fresh ginger is so cute that you can't help touching it! The included practice sheet plays that familiar phrase from the commercials♪
*This product is sold only in Japan.
Release: Scheduled for mid-April, preliminary
price: ¥4,950 (tax included)
The product will also be available at Iwashita Foods' Iwashita Fresh Ginger Museum and online store. Please wait a little longer for its release.
Iwashita Foods HP
https://iwashita.co.jp/news/iwashika-otamatone/